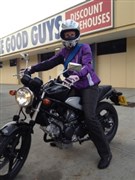 Jennifer Wittwer

Expires
Thursday, 1 August 2013
Jen's Wall to Wall Ride for Fundraising
Hi,

I'm taking part in the Wall to Wall Ride for Remembrance on September 15.

Each year, the Wall to Wall Remembrance ride is held in the lead up to National Police Remembrance Day to remember and honour our fallen colleagues, to raise funds for police-related charities and to promote safe and lawful motorcycling. Groups of riders will depart from every capital city coming together in Canberra to ride as one group to the National Police Memorial for a ceremony honouring our fallen.

Please help me by making a secure online donation and help me in my support of the National Police Federation.

Thank you!

National Police Memorial as Trustee for the National Police Foundation
The Wall to Wall Ride for Remembrance is an annual event run by the National Police Memorial to honour our fallen colleagues while at the same time, raise funds and awareness of the work of Police Legacies in every jurisdiction in Australia and finally to promotes safe and lawful motorcycling on our roads.
FUNDOMETER
Target
$2,000
Raised So Far
$1,950
Biggest Supporters:
Stephen Fitzgerald: $250.00
Workplace Training & Advisory Australia: $200.00